Hemel Hempstead
By
Richard Roscoe
on
January 19th, 2022
Interested in visiting Hemel Hempstead? You could be forgiven for thinking that the town is just a small rural village with few attractions. But you would be wrong. There are many things to see and do while you're here, including some of the best shopping in Hertfordshire. This article will cover everything there is to know about this historic market town!
History
Origin of the name
In Anglo-Saxon times, the settlement was called Henamsted or Hean-Hempsted. The name changed to Hemel-Amstede in William the Conqueror's time.
The town is mentioned in the Doomsday Book as Hamelamestede, but it was later referred to as Hamelhamsted and Hemlamstede.
The word "stead" is a suffix in English that means a place. It can be seen most commonly in the names of towns such as Hemel Hempstead and Berkhamsted Town or words such as "in stead".
It has been theorised that Hempstead may have originated as a corrupted version of Hemel, specifying the town in relation to nearby Berkhamsted.
Hemel may have been located in an area with more space to the sky than Berkhamsted, which might be why it is reflected in German as meaning 'heaven' or Dutch as meaning 'sky'.
Hemel is an undoubtedly ancient name, but the meaning behind it continues to be unclear.
Early history
The first documented mention of Hemel Hempstead on its present site is recorded in the Domesday Book as a vill known as Hamelhamstede, with about 100 inhabitants.
One notable Hemel Hempstead landmark is the parish church of St. Mary, which was originally built in 1140 and features an unusual 200-foot spire added at its completion in the 12th century.
After the Norman Conquest, Count Robert of Mortaigne was granted lands near Hemsptead that included land around Berkhamsted Castle.
Hemel Hempstead has been in the hands of a number of different owners over the centuries. It was originally part of the Domesday hundred of Danais, which, by 1200 had combined with the hundred of Tring to form the hundred of Dacorum. King John's grandson gave Hemel Hempstead manor to this religious
The town of Hemel Hempstead remained part of the monastery's estates until the Reformation and break-up of Ashridge in 1539. In that same year, a royal charter was granted to allow it to become a "bailiwick" with the right for locals to hold a Thursday market and fair on the annual event day.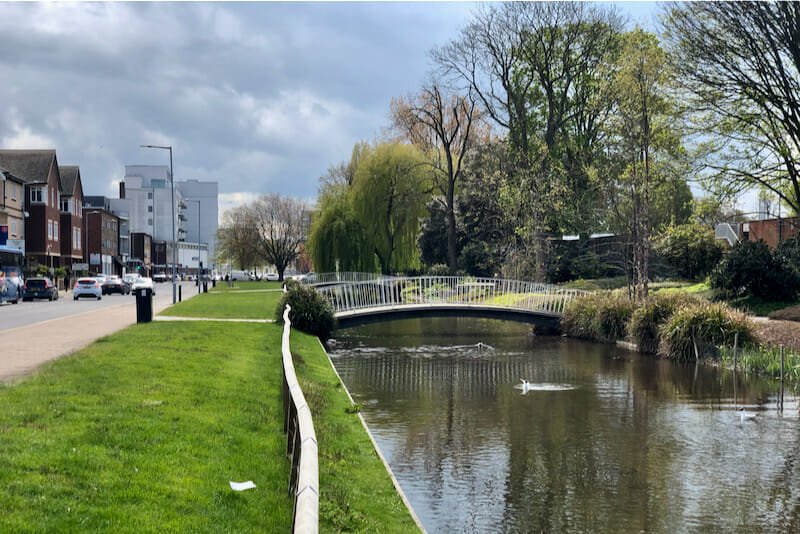 In 1953, archaeologists uncovered a collection of oddly fine medieval wall paintings in the 900 year-old dilapidated cottage on the outskirts of Hemel Hempstead that dated between 1470 and 1500. This same building had been converted into what is believed to be where Astley Cooper first accepted patients for free medical care.
The Box Moor Trust, which owns the grazing land in Hemel Hempstead, was established by local people in 1581.
18th to mid-20th century
Hemel Hempstead used to be a farming town in the 18th and 19th centuries. Wealthy landowners built large country homes close by including The Bury, which was built in 1790, and Gadebridge House, finished in 1811 by noted surgeon Sir Astley Cooper.
As industrialisation accelerated, travel between the Midlands and London increased greatly. Hemel Hempstead was a natural trading hub due to its proximity to both areas and needed industries. In 1762, The Sparrow's Herne Turnpike Road was opened.
In 1798, the Canal from the Thames reached Two Waters, just south of Hemel Hempstead. It fully opened in 1805.
Hemel's placement on the commercial transport network was established in 1837 when the London and Birmingham Railway reached the town.
The railway expanded and in 1877 a new route opened connecting Boxmoor to the Midland Railway at Harpenden.
The Harpenden to Hemel Hempstead branch railway. The rail-served three stops in the town at Heath Park Halt, Hemel Hempsted (Midland) and Godwin's Halt..
Throughout the 19th century, Hemel Hempstead was primarily a farming center, and then in the late 1950s, developers started developing houses for London commuters.
During World War II, 90 high-explosive bombs were dropped on Hemel Hempstead by the Luftwaffe. The most notorious incident was on May 10th, 1942 when a stick of bombs demolished homes at Nash Mills. Eight people died in the attack and nearby John Dickinson & Co. factories that produced munitions were the main target.
New town
After World War II, Hemel Hempstead was designated the site of a proposed new town to house London's population displaced by the Blitz.
In 1947, the government purchased 5.910 acres of land to start a new town with a planned expansion. People started living there in 1949 and it was being expanded by the 1980s.
In 1946, Hemel Hempstead was nominated as a candidate for a new town with the government's "policy for the decentralisation of persons and industry from London".
Initially, there was much opposition to the plan from locals. It was especially not supported when it was revealed that all development would be carried out by a government-appointed agency instead of the local council.
As a result of the council's inquiry, Hemel got approval to become a new town. The proposal passed on 4 February 1947.
The first master planner of the modern town was an architect named Geoffrey Jellicoe.
Trialling the plans was met with resistance by locals, and new, more sensible proposals were drawn up. The first developments proceeded despite local protests in July 1948.
The first area to be developed in Hemel Hempstead was Adeyfield. Plans for a revolutionary double roundabout at Moor End were put forward in 1754, but the plans didn't go through until 1973 when they finally opened.
Industrialization occurred in Hemel Hempstead in 1950 with the erection of a factory on Maylands Avenue. As building progressed without much local support, residents coming from north London were purchasing land and moving to this town as it continued to grow.
There was a waiting list of 10,000 individuals interested in the town by 1951.
On a visit shortly after her accession in 1952, Queen Elizabeth II laid the foundation stone for a new church in Adeyfield.
The urban redevelopment of the old town took place in 1952 with a new, modern centre located south of the original one.
This area was formed by ponding a large part of the River Gade back to create water gardens known as the Water Gardens.
Plans for the old town centre were developed to maintain its historic feel, with more modern amenities and designs.
Formerly a private estate, Gadebridge was turned into a public park.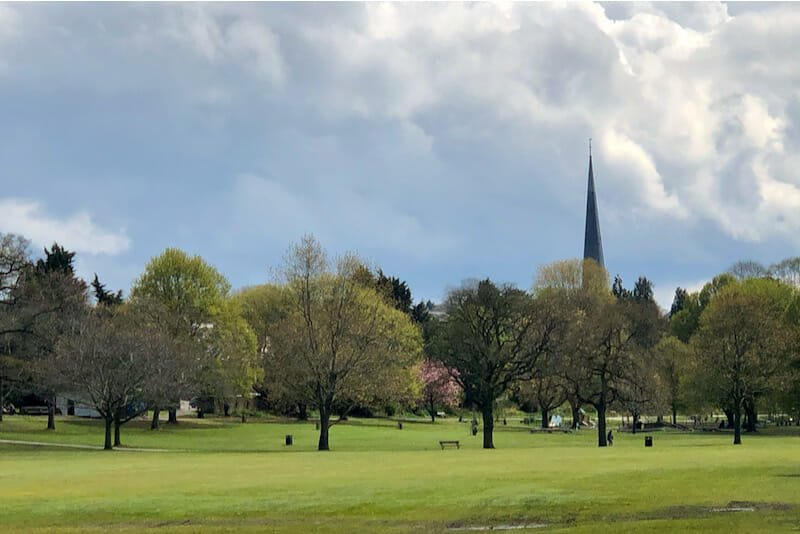 New schools and roads were commissioned to serve the new neighbourhoods. Urban development technologies such as pre-fabricated buildings started to be used from the mid-'50s, which led to an increased rate of house building. Highfield became the next neighbourhood constructed; it was completed in 1966.
In 1959, the M-1 motorway opened to the east and a road connecting it to Hemel Hempstead was completed.
The 1960s saw many new facilities built in Hemel Hempstead. These included the campus for West Herts College, a library, and a new police station. There was also the opening of The Pavilion (theatre and music venue).
First-generation new towns are typically divided into residential neighbourhoods, each of which has its own "village centre," or heart. These centres feature retail and dining options for residents.
Building styles in the town of Hemel Hempstead are a mix between modern and experimental architecture. Not all of these designs have survived so far, though they originally were very innovative for their time.
In 1974, the Borough of Hemel Hempstead was abolished and the town became part of Dacorum District along with Tring and Berkhamsted.
Districts
The new town of Hemel Hempstead, in the UK, was planned from scratch with each district centred around a shopping area.
Pre-existing villages and districts were incorporated into the town of Hemel Hempstead.
Adeyfield – Residents started moving in to Adeyfield on Wednesday, February 8, 1950.
Apsley – Originally a mill town to the south of Old Hemel and now a busy suburb of Hemel Hempstead.
Bennetts End – The construction of Bennetts End began in 1951 and by autumn 1952, 299 houses were occupied.
Boxmoor – The disctrict containing the railway station.
Chaulden – Building started in 1953.
Corner Hall – Borders Lawn Lane and St Albans Hill.
Cupid Green – An industrial estate north of the town and home to its recycling center
Felden – Felden is a beautiful part of the town with lots of detached houses built on large plots of land.
Gadebridge – A 1960s development constructed around the Rossgate shopping centre.
Grovehill – The Astley Cooper School is one of many buildings in this multi-faceted estate.
Highfield – Located north of the old town.
Leverstock Green – A pre-existing village that was incorporated into the Town.
Maylands – The town's industrial estate.
Nash Mills – A pre-existing village that was incorporated into the Town.
Warner's End – A new development for Hemel built in 1953.
Woodhall Farm – A populated estate with a shopping centre, schools for all ages, and a local doctor's office.
Commerce, industry and agriculture
Hemel Hempstead has a mix of heavy and light engineering companies, the town has attracted significant number of tech and telecoms sector companies due to its proximity to London (+ motorways).
Large, local firms include:
Amazon.com
Atlas Copco
ASOS.com
BP
British Telecom
BSI (British Standards Institution)
DuPont
Epson
Henkel
NEXT
Royal Mail
Screwfix
Graphene Digital Marketing provides Web Design Hemel Hempstead to many local businesses, in addition to Web Design, they also offer SEO, Website Traffic Generation, Content Marketing and Automated Sales Funnels.