Link building is somewhat of a controversial topic in the SEO community. Google itself seems to be against the actual process of link building, considering any types of exchanges "schemes" and "manipulations" but, at the same time, acknowledging the importance of contextual, in-content links from relevant resources.
So, even though the actual process of building links is often considered a scheme (offering link-for-link exchanges, social shares, free subscriptions to tools for links), it hasn't really stopped SEOs and link builders from doing it.
Inbound links remain a vital part of any site's search engine optimization strategy, and if you do not invest your time and resources into building high-quality backlinks, it will be challenging to rank your site on the first spots of search engine results pages.
Is It Worth It?
The short answer is yes.
But let's take a closer look at why you should be building links to your site if you aren't already.
Inbound Links Boost Traffic
This is the most obvious advantage of link building. The more links you have pointing to your site, the more people will potentially click on them, increasing referral traffic.
An increased flow of traffic is essential to increasing your sales revenue and growing your business.
But in addition to traffic, backlinks pass on a different property, that is not as easily trackable. Each website has an authority rating, which is a metric created by Moz. It is not an official Google metric, and some people deem it "useless and arbitrary", but that doesn't change the fact that older websites with a lot of content and traffic are viewed as more authoritative.
Backlinks from relevant resources that have already established a decent presence on the Web pass on some of this authority to the page they are linking to, and, ultimately, to your domain.
This results in better search rankings. Let's see an example of strong link building in action.
For the search query "reminder email", an article that I wrote ranks on the second spot in Google.
It also has 258 backlinks (both dofollow and nofollow) from 66 unique domains.

In addition to helping individual pages rank higher in SERPs, backlinks also contribute to your total Domain Authority (or Domain Rating if you're using Ahrefs).
A lot of backlinks and a high authority rating acts as a signal for Google that your content is valuable, which leads to higher rankings in SERPs.
Dofollow vs Nofollow links
Another important thing to know about backlinks is that their value can differ depending on the tag attached to it. There are lots of different tags that exist, but for SEO purposes, there are two that are most important:
The difference between them is simple: the "Nofollow" tag tells Google that the link should be ignored while indexing. This means that such a link does not pass any authority, and is largely irrelevant for SEO.
A lot of people have the assumption that such a link is completely useless, but that's not entirely true. A healthy backlink profile consists of both "Dofollow" and "Nofollow" links.
Besides, it still directs people to your site, which can potentially turn into paying customers.
The "Dofollow" tag has a couple of variations: "follow" and simply a blank space. If a link has neither the "Nofollow" nor the "Dofollow" tag, it is automatically considered "Dofollow".
There are many ways to build backlinks: resource pages, blog comments, repurposing your own content and uploading it on YouTube (with a link back to the original in the description), etc.
But which are the most valuable? As the subheader suggests, the most important links for your SEO are those that come from within the content of authoritative websites.
Such links are often placed on a keyword that perfectly describes the type of content that you will find by following the link.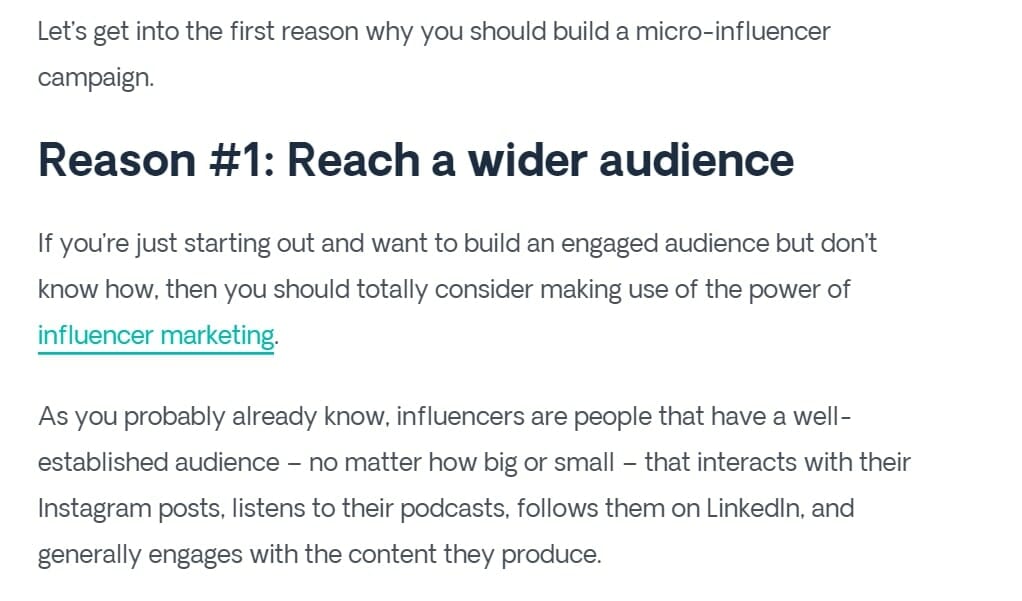 These links should be your primary targets.
The more authoritative (and richer in traffic) a site is, the more valuable a link from it will be for you. Even a single link from a publication like The Washington Post can have a tremendous impact on your site's SEO.
Pros and Cons of Link Building
Just like everything, link building has its negatives. However, the benefits greatly outweigh them.
Pros:
Links generate traffic
Links pass on authority
A strong backlink profile greatly contributes to your rankings in search engines
An increase in traffic also potentially boosts sales
Cons:
Link building takes a long time to take effect
The need to maintain a strong blog
Link building is a time-intensive process that requires you to either spend a lot of time doing it or hire a dedicated team member to manage it for you
What Does It Take?
There are a few things that you need to start link building.
A Blog
A blog is essential to any type of business website. In addition to giving your users a reason to stay around and read up on useful information, blogs are essential for link building.
Bloggers give out commercial (homepage, product, or service page) links very rarely, and so to build links, you need linkable content.
You should also be constantly monitoring what your competitors are doing with their blog, and either trying to outperform them by creating better and more informative content or covering topics that they haven't.
A Lot Of Patience
Link building is a long-term strategy, and it takes a while to show results. Potentially, you can be looking at some months for your newly acquired backlinks to start affecting your SEO.
Additionally, link building is mostly performed through email outreach, and that has an average conversion rate of 5-10%. So, don't get discouraged if you only get a few positive replies from your campaigns.
A Dedicated Team Member Or The Resources To Hire An Agency
You can do link building on your own, but it yields better results when you have at least one team member who does it a few days in a week, if not full-time.
You can also outsource your link building to an agency, but finding one that doesn't utilize shady tactics is quite difficult nowadays. The best of such agencies have only one or a few people working for them, and ensure an individual approach to each client rather than "100% guaranteed results within 31 days".
You can decide which option would fit you better, but I would advise you to have a dedicated link builder in-house (and that's not just because I am one myself).
What Are Some Common Link Building Strategies?
Now that we've established why you should invest your time and resources into link building, let's take a look at some of the most common (and effective) link building techniques.
Editorial/Anchor Text Strategy
The premise of this strategy is very simple: you take an article of yours, select a keyword, and find other articles that mention your keyword but are centered around a different topic.
Then, you will be reaching out to the owners of those sites and asking them to attach a link to that anchor text. Of course, you need to add some kind of value proposition to make that collaboration mutually beneficial.
Some potential value propositions you can include are:
A link back (potentially to a different resource of theirs or from a different site of yours)
A social share
A free subscription to your tool
A mention of your prospect in your newsletter
Money
Google is against all of these types of exchanges, but that hasn't really stopped link builders from doing their job.
Reciprocal links can actually hurt your SEO rather than improve it, so I would suggest trying to do non-reciprocal exchanges as much as possible.
A lot of blogs will charge an "editorial fee" to insert your link, but I wouldn't recommend paying for backlinks. Ultimately, it is your own decision, but if there are ways to earn backlinks without monetary transactions, it's always best to do it that way.
Some useful search operators you can use to find prospects are:
Intitle: (lets you specify keywords that should be mentioned in the target articles' titles)
Intext: (specifies which keywords should be mentioned in their bodies)
So, a hypothetical search string would look like this:
intext:"link builidng" intitle:"seo"
Guest Posting
Guest posting is a very popular link building strategy because of its sheer effectiveness.
It is the process of writing a unique piece of content to be published on a different resource. Guest posts are typically allowed to have one link back to your website in your author bio and/or one in the text of the article.
You can look for websites that have a "Write for us" page, but in reality, most blogs accept guest posts even if they don't have such a page.
The downside to guest posting is that writing new articles for each link is very time-consuming. But what if I told you that you could get more than 1-2 links for every guest post?
If you have some partner websites, you can include links to their content in your guest posts (if they fit in contextually). In return, your partners will add your links to their guest posts, or on their resources.
It is a very good way to maintain a consistent inflow of backlinks.
Skyscraper Technique
The skyscraper technique is a very good way to grow your blog and earn some sweet backlinks along the way.
The process behind it goes as follows:
Identify your competitors' articles that have a lot of backlinks. For this, you will need backlink monitoring software, such as Ahrefs.
Identify weak points of those articles. What information did they not mention? Perhaps there's a better way to explain something?
Create your own article that is better than that of your competitors (longer, expands on a topic they covered only briefly, etc.).
Reach out to the people linking to your competitors, telling them about how your own article is better and asking to link to it instead (don't forget about the value proposition!).
PRO TIP: Statistics, or specifically, images with statistics can be an amazing way to get relevant backlinks when using this technique. If you've got a decent eye for design, consider grabbing graphic design software and creating your own images, or hire a designer to help.
Of course, it is very time-consuming to create such content. But, if you're in a very saturated niche, the upside to this is the fact that there is no shortage of prospects. For example, here's the backlink profile of just one article by Neil Patel: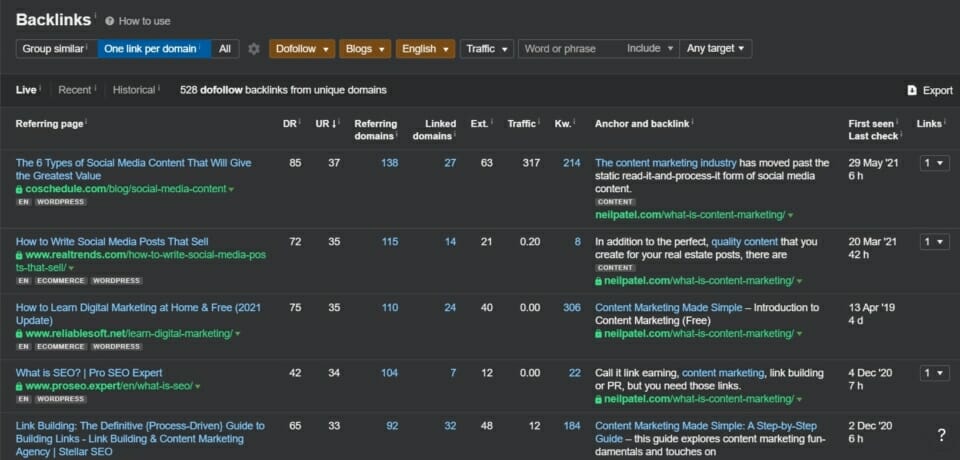 That's 528 potential link building prospects! Although, if you filter out any opportunities with a Domain Rating lower than 40, you will be left with about half that number. But still, 250+ prospects in about two minutes is not bad.
There is also the reversed version of the skyscraper technique, also commonly referred to as the competitor backlinks strategy.
It is very similar in structure and the only difference is that instead of writing new articles for the sole purpose of outperforming your competitor's content, you will be finding link building opportunities for blog posts that you have already published.
Select an article on your blog that you wish to build links for.
Do a Google or Ahrefs Content Explorer search of your main keyword.
Take a look at competing articles' backlink profiles.
Export the list of their backlinks.
Reach out to the sites linking to your competitor's articles and explain why it would be better if they linked to your content instead.
Conclusion
So, backlinks are essential to any website's SEO strategy. They help boost traffic, improve authority, and secure higher rankings in search engine results pages.
Link building takes a lot: a strong blog with a lot of informative, link-worthy content, plenty of time, and a lot of patience.
But, the three strategies that I have discussed in this article should help you get started with link building, as they are some of the most effective and relatively simple strategies to use.
Recommended reading: Want More Sales? Do You Increase Your Ad Spend or Improve Your Conversion Rate?