17 Proven SaaS Marketing Strategies to Skyrocket ROI
The SaaS (software-as-a-service) landscape is constantly evolving with a consistent stream of new products.
Blissfully has created an insightful report (2020) on the state of SaaS. Key highlights include:
Overall spend per company on SaaS products is up 50%, and the number of unique apps in usage per company is up about 30% year over year
Companies are churning through more than 30% of their apps every year
SaaS waste is doubling year-over-year. (Where companies buy apps that duplicate the functionality of another app)
With such SaaS growth, in terms of spending and churn, effective marketing is more important than ever to establish and secure a business's position in the marketplace.
Why is SaaS marketing different from traditional software marketing?
Marketing a traditional, shrink-wrapped software product differs from SaaS marketing in several ways. With traditional, we have a physical product, the buyer 'owns something.' With SaaS, there's no physical product to photograph; the customer doesn't have anything in their hands after the sale, but there's one difference that's even more important.
A traditional piece of software is sold once. The customer may get some updates and may buy a maintenance package, but if they don't, they can still use the software they bought. Marketing for software companies, with traditional products, is all about that one-time sale.
With SaaS, a subscription is sold. The customer can use the software for as long as the subscription is maintained. If a customer decides not to renew, their access to the software is revoked.
SaaS marketing needs to keep these differences in focus with the much longer relationship and repeated need to impress and renew subscriptions.
Growth Marketing
With such a competitive marketplace, SaaS marketing needs to be using best practices, and today that involves a more scientific approach than ever before. Marketing must be measured, tested, and optimized, this is known as growth marketing.
This article presents 17 top strategies for SaaS marketing.
#1. Provide Clear Pricing
When you are designing your product pricing, the pricing page, the tiered levels, the upgrades etc. You need to always look at it from your customer's point of view.
It's easy to take an approach where you base your SaaS pricing structure on costs plus profit. Working out pricing with this method has a few issues.
You may end up talking about features in your pricing that are meaningful to you (because they cost you money), but that is of no real consequence to your potential customers.
Your ROI may be suboptimal.
When you create SaaS pricing from a customer-centric view, in terms of benefit and proposition value, you'll be communicating pricing in their language, and you'll be generating revenue based on the value you are delivering and not on what it costs you to deliver.
Create simple pricing tables that make it simple for customers to decide which tier is the best match for their needs.
Be upfront; customers hate hidden extras.
#2. Create a slick signup process
Having frictionless signup for your product is incredibly important to SaaS companies. If it's not clean and easy, if there are hurdles, or the potential customer is overwhelmed by too many questions, they may move on to another vendor and never even experience your product.
It's ideal if you can get away with only requiring a user's email address to signup for a free trial.
Many SaaS companies don't bother taking credit card information until after a user has experienced the full value proposition of their offering. This can improve the signup rate for free trials, but you've really got to impress the user to get them to upgrade to a paid plan.
Optimizing the signup process can be a gradual process; each part can be A/B tested until the highest customer lifetime value is obtained.
#3. The Paradox of Choice: Offer Fewer Choices
Our lives are complicated. Every day is filled with decisions that need to be made and things that need to be done. In Barry Schwartz's book, The Paradox of Choice: Why More Is Less, he presents an argument that providing consumers with too much choice increases stress, and anxiety and leads to buyer's remorse. He shows us how there's been a dramatic increase in choice in many facets of life from career, to family and our personal choices.
I gave up buying a new coffee machine for a while. It was too hard. Amazon had a great selection of machines with a broad price range, my teenage kids wanted something more than a capsule machine, more of a barista style.
That helps cut down the choice. I liked the Breville/Sage Barista range and did some self-education. It was at this point, it all got too complicated. Research showed that some reviewers (professional Baristas) believed that the built-in grinders don't have enough granularity. It was said that the coffee should be bought based on when the beans were roasted. You need to ensure you don't under extract or over-extract. You need to use the right water softener.
My decision just got harder, I'm thinking let me go look at the coffee grinders. Oh wow, what a choice! Some cost more than a coffee machine. Where can I get coffee sold by roasted date? Will I like the flavor, let me check online. Yikes! Such choice.
At this point, I gave up. Trips to the coffee shop were fun anyway!
Later, my wife just bought a coffee machine. It's great, the coffee is gorgeous.
Anyway, you can see the point. Too much choice and complexity can push your customers away.
Make it easy to buy your services, don't offer too many options up front, and keep it to 2 - 4 variations. The beauty of the SaaS business model is that it's easy to sell more to existing customers - especially if they like what they have bought so far. You can always sell additional features and add-ons in the future.
Ensure each of the options you do offer is clear and concise.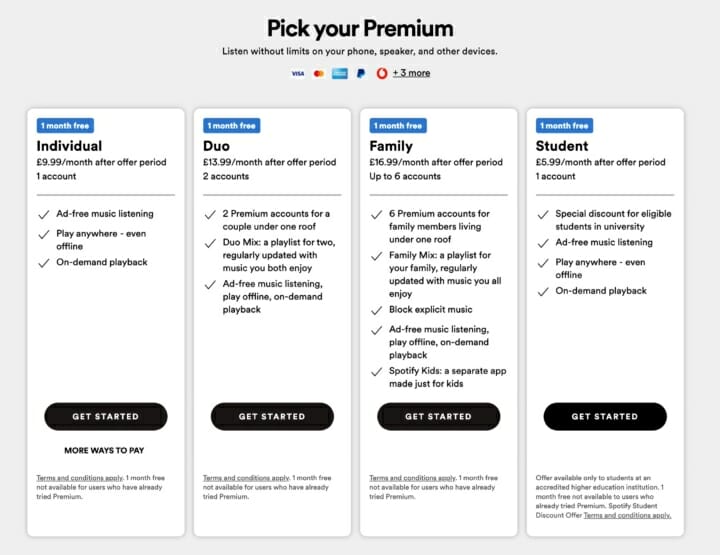 #4. Deliver an Excellent User Experience
SaaS companies have to constantly consider their customer experience. Their customer journey involves a repetitive sales cycle. There's the first sale when a new customer is landed, but then every subscription renewal opportunity can be considered as another, customers may ask themselves: "shall I renew or shall I try something else?".
As a result, the need to have an exceptional user experience is extremely important to customer retention and the success of SaaS companies.
It's vital that every part of the customer journey is planned out and the UX issues considered, systems designed, and then implemented.
You may consider personalization, enabling client self segmentation, and live chat systems. You might design videos or other content that answers frequently asked questions. You might have the best tooltips in the industry, the most attentive sales team, the best support service, etc.
If you have an industry-leading UX, your marketing performance will fly! Word of mouth will just happen. Social media will light up.
#5. Create compelling Offers
One way of decreasing churn (both subscriber and revenue churn) is to make longer plans available and you can make these more compelling by offering a great deal, this is one of the well-established SaaS marketing strategies.
If you have a look at current industry norms, you'll find many SaaS companies offering 12 months for the price of 10 (or similar).
You might find that customers will upgrade to these longer plans after they've completed a free trial or after a few months of paying the monthly rates.
Here's an example from ActiveCampaign.
They have an annual option, when you click the switch, you get to see the effective monthly rate change and you instantly see the saving.
#6. Define your Customer Retention Strategy
One of the most important metrics that you'll be watching is your churn rate. With many SaaS companies, the initial Cost of Acquisition for customers is amortized over several months of subscriptions. To remain profitable and indeed, to establish a SaaS business's growth, the churn rate must be minimized and managed within your SaaS campaign management.
Your retention strategy should include two parts, firstly, you cannot rest on your laurels, you need to be adding features, fixing issues, creating new options and upgrades, partnering with other companies, etc. And secondly, you need to be marketing to your existing customers, showing them how much their business means to you, demonstrate the importance of quality and customer service through timely bug fixes and regular feature updates. When you communicate with your existing customer base about the constantly increasing value of your software, they will want to stay with you.
When you are planning your digital marketing strategies, make sure this is near the top of the priority queue.
#7. Attract Customers with Free Trials
One of the beauties of the Software as a Service model is that you can give away access in the form of a free trial. It's one of the most effective SaaS marketing strategies for customer acquisition. Potential customers can try out your software and decide if it's right for them and this benefit is what makes it one of the most effective SaaS marketing strategies.
You effectively remove all risks from the customer.
They get to see how you solve their problems, they get to feel how you look after them with your exemplary customer experience.
You get to Wow them and turn them into lifelong customers.
When using this strategy, you need to be mindful that you are offering a trial that's long enough to allow them to see the full potential of your product.
On the other hand, you also need to work hard to ensure that your trial customers, once signed up, move forward and use the product. Life today is so busy that people signup for things and put them to one side and forget to return later.
You need an email marketing campaign to ensure that you foster your new signups to get value from your SaaS product.
#8. Use PPC Campaigns
Pay-per-click ad campaigns can generate immediate results for SaaS companies. It's true, they can cost more than SEO and content marketing, but those marketing strategies can take months to gain any traction. If you need highly qualified leads for your business now, then PPC is a great SaaS marketing strategy.
PPC campaigns are simple in concept but require research and optimization to get the best out of them.
Before you start think about what are you trying to achieve? Where are you sending people that click on your ads? Create a landing page on your website that's congruent with the Ad. What's the goal of the landing page? Lead generation or are you going straight for signup to a free trial of your product?
Google Ads is the most popular PPC platform. When you sign up for an account, you'll be sent through a wizard to create your first ad! This seems well and good, but the reality is you should always start with research. Keyword research is a must. You need to check search volumes for variations of what you think are popular searches. You'll also want to decide on words and phrases that you don't want in your keyword list (negative keywords). Once you have a handle on your keywords strategy, you will want to decide on your target audience. You'll need to decide when and where you want ads to be shown. Do you want to use Google partners?
Additionally, you need to set up tracking and goals so that you can measure the effectiveness of your campaign.
One rule when running paid ad campaigns is to always be testing. Always.
Look at your results. Decide what you'd like to improve. Create a hypothesis. Generate an A/B test. Test it. Review and then repeat.
As well as Google Ads, you'll want to consider PPC campaigns with other vendors and decide which are the best to reach your target market. Here are a few other PPC platforms for SaaS marketing:
LinkedIn
Pinterest
Youtube
Microsoft/Bing Ads
Twitter
#9. Generate Leads with SEO
Search Engine Optimization (SEO) one of our favorite SaaS marketing strategies for lead generation. SEO and Content Marketing work together to bring more of your target audience to your website through search engines.
SEO is a large and complex beast.
You need content that could rank (and a content marketing strategy). You'll need linkable assets (content that people would link to). And you will need keyword research out of which comes keyword clusters that then provide input to the former with the goal of topical relevance.
The two major areas of SEO are on-page SEO and off-page SEO.
On-page SEO
This deals with the content of each page. How your pages are linked together, navigation, the text on the page, headings, titles, metadata, and other factors. The good news is, this is within your control.
Off-page SEO
If you want to rank well in Google, if you want more website visitors, more search traffic, and qualified leads, then you will need to invest in off-page SEO.
So what is it?
Generally speaking, if you want a search engine to rank your website you need a few things.
Most importantly, your topical authority for the keyword you want to rank for needs to be high enough. If you're authority isn't high enough, you won't be competitive for your chosen keyword.
Topical authority comes from a combination of on-page factors (already discussed) and authority gained from contextually relevant backlinks.
A backlink is a link on one website that brings people to your website.
Getting these backlinks involves building relationships with owners of other websites. It requires outreach, creating guest blog posts, and suggesting appropriate links.
There are many SEO tools that can help with outreach campaigns and the measurement of your SEO efforts. Respona is an excellent outreach SEO tool that you can use to identify prospects and send them emails. Ahrefs is a brilliant tool for examining backlinks and measuring your domain's authority. Google Analytics can show you the sources of traffic that visited your website and the query that the visitor typed into the search engine.
Unlike paid ads, you can't control the number of website visitors and you can't control which web pages they will look at. Your content will need to encourage them into your sales funnel.
This SaaS marketing strategy is a long-term game. It's an investment and should definitely be in your marketing plan.
#10. Get leads through Inbound marketing
Inbound marketing is one of the most common SaaS marketing strategies you will see used to market SaaS companies and their products.
It's where marketing efforts are focused on generating inbound interest, it includes content marketing, referral marketing, and SEO, each of these is covered separately below.
Inbound marketing steers clear of advertising, cold calling, and cold email campaigns.
#11. Generate Leads through Content Marketing
Content Marketing is one of the best SaaS marketing strategies, it combines SEO, email marketing, and your other marketing efforts.
Your content marketing strategy should be a central pillar of your marketing plan.
What's this all about?
Some people think that having a blog with a new blog post every now and then checks the content marketing box. It doesn't it's broader than that and more considered.
The input is keyword research, topical clustering, researching potential clients ... and the output is blog posts, emails, lead generation magnets, infographics
And this all goes into a plan. Each piece of content needs to be created to the plan. It needs a content brief, keywords, a due date, a release date, a campaign, marketing channels. It should cover just about every piece of content your SaaS company creates, everything is designed, planned, and executed to implement the strategy.
#12. Build a Referral Machine
One of the most effective lead generation SaaS marketing strategies is the practice of referral marketing.
When you tell potential customers how great your product is, they listen but they may not believe it.
When a friend or colleague speaks up about how great your product is, they listen and trust what they hear - it's far more effective than any other form of marketing.
Getting your happy customers to recommend your product is all you need to do. They may need a little push in the right direction to incentivize them to take action and that's where a referral program comes into action.
#13. Brand building on SaaS Review Sites
Getting your product onto SaaS review sites has got to be one of your marketing strategies. Almost everyone checks out reviews and comparisons before they take the plunge of trying out or purchasing a new product.
SaaS marketers, SaaS companies, and SaaS consumers head to Capterra and G2 for review and comparison services. (These are both SaaS products in their own right. Where do they go for reviews?)
Get your product listed and reviewed!
#14. Use Impactful CTAs
Your SaaS website is there to sell, to market your product. Your website needs to be designed from the ground up, to talk to your ideal clients. Every piece of content needs to speak directly to them. It needs to talk about the problems and fears that keep your ideal customers awake at night.
But most of all, you've got to communicate what you want them to do!
The design of each page must leave no doubt in the mind of the visitor. Show them, tell them what you want them to do next.
Your calls to action must be obvious. They need to be powerful and direct.
Buttons used for CTAs need to stand out.
Many design agencies like CTAs to fit the color palette already in place. Button having a background the same color as lots of other things. But primary CTAs need to stand out. Make them jump off the page.
Here's a great example:
Many SaaS marketers like using SMM to market software companies' products. It's a relatively cheap way to establish brand awareness for huge numbers of people. Just think of the reach available through Facebook.
Before deciding to use social media marketing for your company, you need to determine the best social media platform to reach them. Where do they already congregate? Is it Facebook? Maybe LinkedIn?
Once you've identified the best social media platform, you need to look at the average cost to generate a lead. And determine if that cost is something that is manageable for your business. You may decide that lead generation on LinkedIn at $300 per lead is too expensive if your SaaS subscription is $9.99 per month.
#16. Get Help through Affiliate Marketing
Affiliate marketing is one of the most popular SaaS marketing strategies.
Many SaaS companies decide to engage the assistance of marketing specialists through affiliate marketing. They allow 3rd parties to sell their products. The 3rd parties, the affiliates spend their own time and money to promote the products and in return are paid a percentage of every sale.
Using affiliate marketing, a SaaS company could have 100's of people marketing their products for them.
SaaS companies need to evaluate the economics of this marketing strategy to determine if it's a sustainable way to market over the longer term. It could be that it's a great strategy to get the initial traction required to get feedback, product reviews and to establish MRR.
AppSumo is one of the most well-known places for SaaS affiliate marketing, but JvZoo and others are also very popular.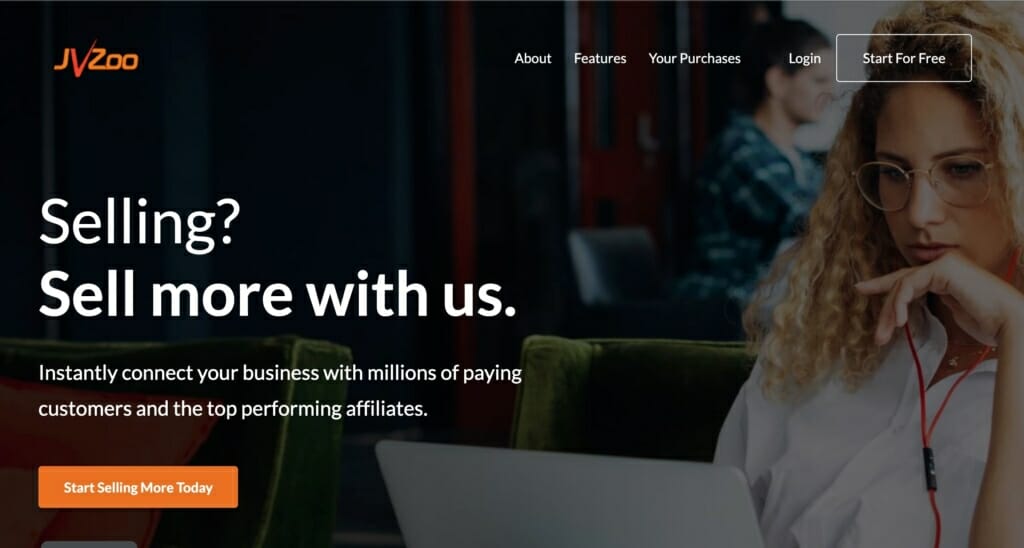 #17. Look for Partnerships - Co Marketing
In today's crowded SaaS marketplace, there are many co-marketing opportunities for SaaS companies.
The idea is to look for another company that shares a very similar target audience. You obviously don't want a direct competitor, what you want is a business that offers a complimentary service.
You work together in partnership to promote each other's products to your own audience.
Where there's a very obvious synergy, this works well as your customers see the value that's being marketed to them. If your customers look at what's on offer, scratch their heads, and wonder what's going on, then you've picked the wrong company/product to co-market with.
An example of this done well is the partnership between SurferSEO and Conversion AI.
SurferSEO and Conversion AI
SurferSEO has a product that enables content producers to perform keyword research and generate search engine optimized content for those keywords.
Conversion AI has a product that helps content producers create content with AI.
As you can see, their target markets overlap. Their products are complementary and it's very easy to see how both products could work together and be attractive to a large part of their joint target audiences.
Conversion AI and SurferSEO moved forward with their co-marketing. The companies held webinars and create Social Media campaigns.
They went one stage further and Surfer can now be used directly within Conversion AI.
Who can you find to work with? Who already sells to your target audience?
Launch your SaaS with Graphene Digital
You're probably busy managing the software development and testing of your SaaS. For SaaS founders, getting everything done and staying on top of every issue can be time-consuming and stressful.
Talk to Graphene Digital Marketing, see if we are a good fit to work with each other.