Marketing for Software Development Companies - Where do you start? Marketing is a huge topic, if you're a startup, it's especially difficult. If you are over the first few hurdles and have part of your marketing strategy in place, it's still hard knowing what to do and what the priorities should be.
This article will help software development companies who are in the early stages of launching their product.
Marketing Strategy: Step #1 (Startup and early stage)
The number one thing that you must know and understand is your ideal customer, your target audience. Without this, all your other marketing strategies will be ineffective. This is the foundation for all other marketing efforts.
That sounds easy right. Well, it's not. It's hard work. You need to know them in detail, there's the easy stuff like demographics, all the way through to their psychographics, what keeps them up at night etc.
You may have more than one ideal customer for your product and you'll need to develop buyer personas for each. You'll more than likely have different marketing messages for each profile and you may have to reach them through different channels.
Don't move forward until you have these nailed.
How do you use them? Typically, you'll develop a sales funnel and dedicated messaging for each product and persona combination. You'll always want to keep the persona you're working with top of mind. To help with that, you can give your persona's real names, you might even grab a photo from the internet to give the persona a face.
If you're looking for help with marketing a SaaS product, check out this article: SaaS Marketing strategies.
9 software marketing strategies
1. Engage customers with free demo
There's nothing like a demonstration to show the real value of your software product to a potential customer. Sometimes this is more effective than offering a trial version
Most software development companies offer a demonstration of their product. It can be in the form of a webinar or much more personal, a video or phone call.
The key to a successful demo is to understand the single biggest problem your prospect has (as it relates to your product/service). This will need the right questions and careful listening. Once you have this understanding, you show them how your software solves this problem for them. This will be a Wow moment for them. They will ask to sign up then and there.
Many tech companies miss this aspect of the demo. They miss this tailored approach and instead, just roll out the same scripted presentation to everyone.
This single strategy can skyrocket your conversions and is key for software development companies.
2. Provide Educational Content
Developing educational content should be a part of your content marketing plan. Why? When a potential client is researching a problem or issue they want to solve, many will first need to educate themselves.
They need a deeper understanding of the issue/problem and any potential solution. You'll want to provide video content, regular textual content and audio content, make it easy for people to consume your content how they want it.
People in this phase are often referred to as top of funnel. There is no buying intent yet, but that doesn't matter.
This is the first opportunity to show them your authority on the subject matter and to dazzle them with professionalism in everything from web design, branding etc.
The more trust you build now, the easier it will be to get them to take the next step.
If your target audience finds enough value in your content and have enough trust in your brand, they may take the next step and sign up for your related email list.
From here your email marketing campaign will drive them from a subscriber through to a paying customer.
A further benefit of an educational content marketing strategy is that it also helps with SEO. High-quality long-form content will rank in google, this will drive organic traffic (potential clients) to your website. This type of content marketing works to increase the effectiveness of your SEO strategy (more organic traffic from the search engines).
3. Use PPC ads
Advertising on a pay-per-click model (where you only pay for an advert when someone clicks it) is an attractive marketing option for many tech companies. It allows companies to quickly get their offer in front of their target audience.
You can easily try new messaging, measure effectiveness and perform A/B testing. This flexibility allows a company to find the most effective offers (ad copy, targeting, locations) relatively quickly.
PPC is a great marketing choice for many software companies, but no business should ever rely on a single sales channel, that's just too risky.
PPC ads should be a part of an overall marketing strategy that includes social media, SEO and offline components.
Branding is particularly important for software companies. People don't like to buy software from brands that they don't know and don't trust.
Sponsorship opportunities, related to your market, for events, product launches etc, can be of awesome value to your company.
They generate huge brand awareness and increase trust in your business, they can work equally well for b2c and b2b companies.
Whatever the opportunity, it's got to be something that will get your company in front of your target audience and you need to use the opportunity strategically with careful planning.
If you had a software product for professional photographers, you might consider sponsorship at a trade event, ClickCon for example.
You'd get in touch with the event organisers and see what deal they could do for you, they'd be able to explain how many professional photographers were expected to attend and what kind of benefits would be available to you as a sponsor.
It doesn't have to be an in-person event you sponsor, it could be a virtual event or even a website!
Think about what you want the audience to do.
Give them easy to remember URLs that take them to your landing pages that match the event/launch/etc you are sponsoring.
Give them an offer (i.e. a reason to visit) - a free trial of your software or an upgrade for a month, whatever makes sense, but do make an offer.
5. Optimize the User Experience
You need to make sure that your user experience is flawless. If there's one thing that people hate, it's slow, ineffective systems. They don't want to wait, they don't want to provide more information than is essential, they want customer service yesterday and they expect to be using your software within milliseconds of paying you for it.
Expectations are high and for tech companies, it's even higher!
Ensure the signup process for your software is easy, with no roadblocks, no long-winded forms. Get the information you really need along with payment and then redirect them to their new account for onboarding.
Of course, your software should be a dream to use. No bugs, brilliant UI, clear and concise, tooltips just where the customer needs them.
Support should be exemplary. Phone, video, online chat, etc and all 24x7. That's what they expect from your company.
With expectations so high, you have a hard task, but your target audience will talk to their friends and colleagues, reviews will be written and opinions made. You need these to be very positive to assist with your digital marketing. The more positive the better.
User experience can be more important than some features when it comes to gaining new customers. For this reason, optimizing UX is a critical marketing strategy for every software company.
6. Get Listed on Review sites
Capterra
Over 3,500 software companies use Capterra. It's a (software) tool that help people find the software products they need. It compares options, and users can leave reviews. They (Capterra) say that more than 5 million business software buyers use their tool per month. That's a lot!
Software companies can get a free basic listing or there's the premium route where there's a PPC advertising program.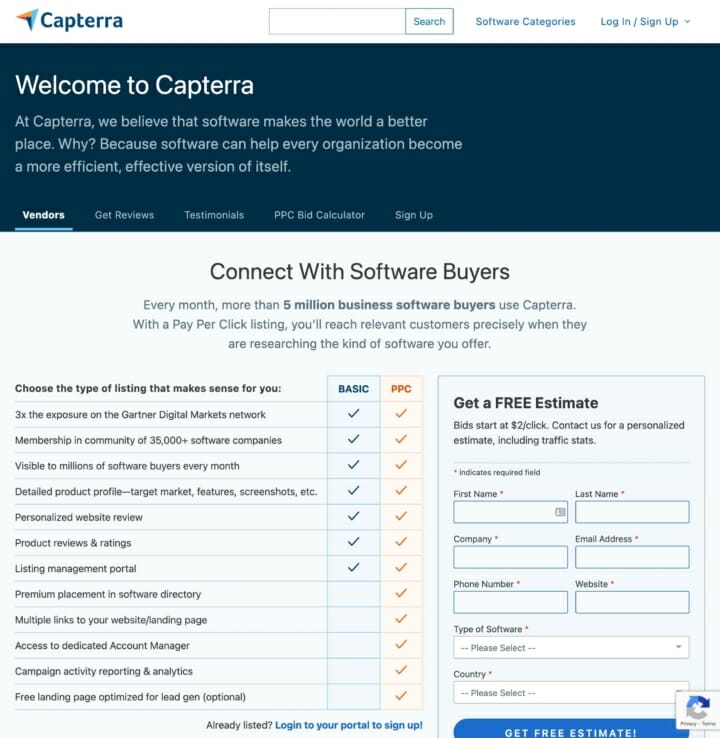 G2
Another leading software reviewing site is g2.com
They say they have 1.36 million reviews from real users. G2 has a free version of its tool and add a couple of premium tiers.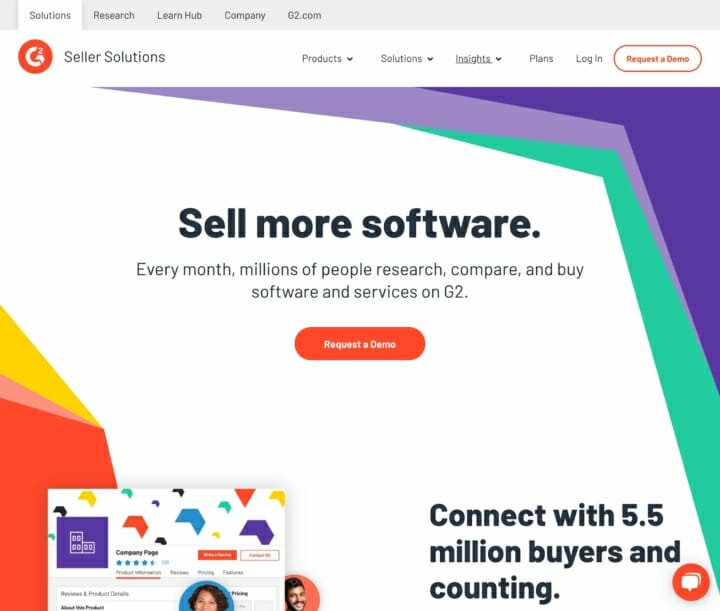 Using sites like Capterra and G2, with reviews and comparisons specific to software companies and their products is a no brainer! Search for the sites your competitors are listed on and get your company listed now.
Software development companies need to put this strategy toward the top of their priority list.
7. Have Products to Cross-Sell and Upsell
Within tech companies, communication between product development and the marketing team isn't always as effective as it needs to be.
If this marketing strategy isn't clearly explained, you'll have few products to sell, there may be only one. Being in this position is less than perfect.
Customer acquisition is expensive. Selling only a single product shouldn't be your goal. Whilst you have someone ready to make purchasing decisions, you should go all out to maximise their spending.
Customers who are ready to buy have already decided to trust you, they are going to get their credit card out. So you just need to offer them the next logical thing.
If your business sells software that uses AI to write blog posts and they are about to signup, why not offer them an upsell, how about a grammar checker or a plagiarism checker as an add on feature?
If there's not a direct upsell, then look for a cross-sell.
If we get the customer to buy more, then we are offsetting the cost of acquisition and improving our ROI for this customer.
For this strategy to work, both the product development team and the marketing and sales team need to understand what is required.
A product stack
Your software company needs a set of products that could be broken into logical areas. Each having a set of upgrades, additional features, more capacity etc.
Your checkout process should offer additional products based on the initial purchase, a smart checkout can make further offers based on how the buyer reacts to each offer (down-sells for example).
Get this strategy on your agenda as it could take time to develop your product stack - this is a must-have part of your business model (and you may need some market research, conversations with customers, gathering reactions from social media, speaking with your customer service and sales team).
8. Utilize Google Seller Ratings
Google Seller Ratings is an indispensable tool when deploying effective marketing for software developers.
This functionality is part of the Google Ads platform. Once you've created your ad campaign you can enable the extension 'Google seller ratings'.
It's all automated, Google uses customer reviews from trusted sources on the web (including those left on your Google My Business page, Trustpilot and others) and it then gives you a score displayed as a row of gold stars.

As you would expect, having a good rating displayed with an ad helps build trust with potential customers. Additionally, it increases click through to landing pages, giving you more chances of landing paying customers.
9. Get Reviews and Testimonials
Happy customers are the lifeblood of every company, without them the future of a business is pretty bleak and marketing an uphill battle.
If you're providing a brilliant user experience, and you're hearing great feedback then now is the time to deploy a marketing strategy that gets testimonials and reviews on autopilot (usually with an email campaign that's triggered some time after a customers purchase).
Getting positive Google reviews, Capterra and G2 reviews are what you should be aiming for. You need a system that encourages your customers to leave reviews.
It's a good idea to familiarise yourself with the guidelines around reviews for each of the platforms. For example, you cannot give money or discounts or other incentives in return for Google reviews.
If you don't follow the guidelines carefully, your marketing efforts may be at risk as Google and the other platforms could remove all your hard-earned reviews.
Bonus Marketing Strategies 🙂
10. Tech marketers goto: Social Media
Social Media Marketing is a goto favourite among many marketers.
Social media campaigns can be very effective at increasing brand awareness within a target market as targeting is accurate and the cost per impression (for an optimized campaign) is usually very low.
In addition, social media platforms can be used to engage potential customers. Educational content marketed to your potential customers can be an effective way to further a relationship with them.
A lot of companies use social media to advertise a lead magnet, it's a piece of content that helps their prospects solve a particular problem and in return for this, the business collects the prospects contact information.
Their email address is added to an automated email marketing campaign that works hard to get the recipient to get value out of the lead magnet and then leads them towards becoming a paying customer.
Another software marketing strategy based around social media is the creation of a group. You invite your customers to join an exclusive Facebook group.
This group becomes a place where users of your customers can share tips on using your software, over time they build a sense of belonging to your community.
Often, you'll need someone to act as a focus and provide moderation but this is a small cost offset by the self-supporting group that helps newbies learn how to get the best out of your products and services.
11. Search Engine Optimization
As the cost of advertising increases year on year, many software development companies are looking for more cost-effective marketing strategies to attract new business.
Getting organic traffic to your website through search engines seems very attractive to almost every company. It almost seems like 'free' client generation.
SEO is a very broad discipline, there's on-page, off-page, technical and local SEO to consider. There are a host of tools that measure and assist with SEO efforts. The costs of SEO can add up quickly, especially when you want to develop a link building strategy.
Get professional help
Many software development companies deploy an SEO strategy as it feels comfortable, it's technical, measurable and it's even something that some try to do in-house.
The more successful companies employ SEO or digital marketing agencies to provide SEO services to them. Running and growing a software development company is hard enough without having to learn how to do keyword research, how to create optimized content, how to perform effective outreach etc, that stuff is best left to specialists that have the experience, knowledge, tools and relationships to ensure success.
12. Continuous optimization Plan
Never stand still. Never be satisfied. Always be looking to improve.
This strategy should apply to every area of a modern business.
Optimize your processes. Optimize your products and services. Create systems to collect feedback from customers, partners and your sales and marketing teams. Regularly review this feedback and decide what actions are required, what needs to change and what needs to be improved. You don't know what gems can come from this exercise!
Of course, optimization should also be applied to your marketing. Always be improving.
Ad optimization. Constant A/B testing.
Lead Magnet testing. Which magnet draws the most leads? Which has the highest conversion rate (subscriber to paying customer).
Landing page optimisation. A/B testing of the copy, images, buttons etc
What type of educational content is driving the most traffic?
Which referral sources are delivering the highest ROI?
Is your social media campaign working? Which platform is delivering the best ROI? How can you improve it?
How is your marketing stacking up against your competitors?
Well, there's a lot of questions. You'll need data to make decisions (always be data driven) and you'll need to ensure that you have the right data collection systems in place (for example Google Analytics tools on your website, something like Hotjar to show how people are interacting with your website or products).
14. Use the power and reach of influencers
This digital marketing strategy allows you to leverage the power and reach of people that have a sizeable following. Influencers spend time building and fostering their audience and their brand.
When their audience has a sizeable overlap with your target market, then these influencers become of value.
You'll need to find the relevant people on their platforms. You'll need to connect and build a relationship with them. But once they know, like and trust you, they may be open to an approach.
How do you make use of these relationships?
Offer something of value in return for a "plug". Often money works well. In return you get featured in a regular email newsletter, or in a tweet, you might be able to negotiate that they send an email, that you craft, to their subscribers (this is usually the most effective).
When using this strategy, you'll want to convert the audience into email subscribers on your own list. (Since email marketing is one of the most effective marketing channels).
15. Joint marketing efforts
This is a perfect digital marketing strategy for software development companies.
I'm going to use a real-world example to explain it.
Surfer SEO has a product that is loved by many SEOs. It's a superb tool for creating a content plan. It does the keyword research, keyword clustering and then analyzes articles that are in the search engines results to provide guidance on how to write and optimize content that will rank.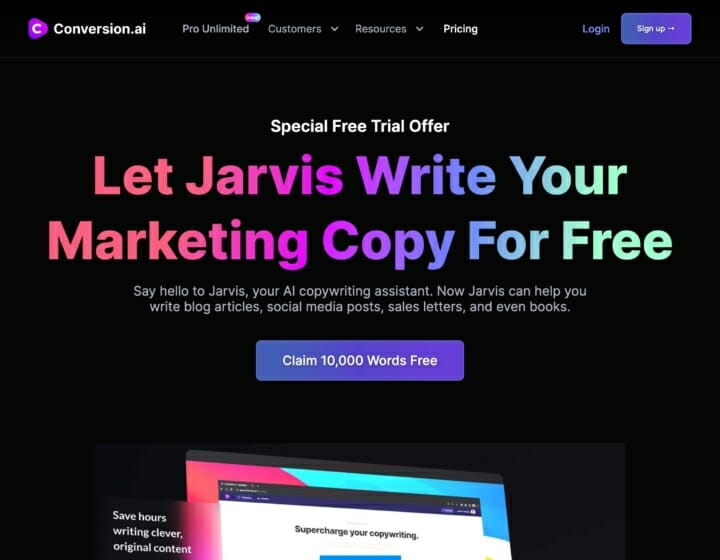 Conversion AI has a tool that helps copywriters generate content. It can be used to create long-form articles and blog posts. A writer provides guidance to the tool about what is required and then you're all set. The tool can write an introduction, a conclusion and almost everything in between!
So here's the strategy in action.
Surfer SEO can see that some of their users struggle to generate the words needed for their articles.
Conversion AI heard that their writers want content that will rank on the search engines.
Surfer and Conversion AI talk and decide to collaborate. They see their interests and market overlap.
What happens next?
The companies work together to produce an integration that allows users to use one tool inside the other.
Both companies tell their audiences about the collaboration.
Both companies gain! (Win-win)
Lots of customers rave about how great this is. (Another win)
So the question is how can this strategy work for you? Who could you partner with?
16. Get featured on podcasts and video blogs
There are many video blogs and podcasts on the internet. One of our software marketing strategies involves getting featured on those that our target audience would watch or listen to.
Owners of these channels are always looking for new material and so they will be open to a pitch from you.
Often you'll have the opportunity to present or to be interviewed.
Either way, you'll want to ensure you are fully prepared. That you know exactly what you want to say.
Are you going to educate the audience about something?
Are you going to promote a key feature of your product/service/solution?
Are you going to make an offer (yes, always make an offer)?
When you appear in person, it's a great idea to have stories and anecdotes to illustrate your points, it makes your information easier to understand and more interesting.
The owner of the platform will, no doubt, promote each episode on their social media and send email to their subscribers to let them know who's appearing etc. You will, of course, be wise to do the same. Get the message out and get the biggest audience you can.
Let's get started with these software marketing ideas today
The sooner you start putting effective marketing strategies in place for your software development business, the sooner you'll start generating the monthly recurring revenue you desire.
Imagine having systems in place to attract inbound leads, people who want to find out more about your product, people from your target market that are in need of your technologies, your services. People who want to pay you money now.
You don't have to imagine this, it is possible. You just need to take the first step.
Hit the Schedule a Call button - let's see if we would be a good fit to work together.