Learn how to increase organic traffic
It's no secret that the digital marketing sphere has been rapidly evolving over the past few years. As a result, marketers are having to change their strategies and tactics to keep up with all of these changes.
One thing that does not appear to be changing anytime soon is organic traffic (or organic search traffic)!
This blog post will teach you some methods for increasing your website's organic traffic without resorting to spending money on advertising campaigns.
If you are happy to consider all the avenues to increase website traffic, including paid ads then you will want to check out my comprehensive article. If you're wanting to keep your spending to a minimum, concentrating on how to increase organic traffic to your website, then read on!
So you have a business, your website is completed and launched. It looks brilliant, represents your brand well, and is a superb shop window.
The trouble is, nobody is visiting and as a business owner, you know just how important it is to get prospects looking at your products and services. You need more visitors to your website.
So what do you do? How are you going to get the customers you need? How will you generate more search traffic?
One way is to learn how to increase organic traffic to your website, this article will give you 10 search engine optimization (SEO) Tips to get more organic traffic to your site through google search. These are the secrets to organic traffic generation!
Remember to optimize your pages for humans (and not just search engines)
Knowing that search engines (google search in particular) will decide where to place your website in the search engine results pages, it can be too easy to forget about the people who are visiting your site.
As a result, you might end up with content that is not optimized for them and instead only focused on search engine optimization (SEO).
The fact is that the search engines are there for one purpose. To give the searcher the result that best matches their query. This is measured by how they react to the content they find on the website they decide to click on in the search results.
If a visitor spends a long time reading your article and visits many pages (spending even more time on your website), the search engines will take this as an indication that your site is useful and relevant to the search term the user made. The amount of time that the user spends on your site before returning to the Search Pages is known as the Dwell Time (and you should be aiming for 2 - 4 minutes).
If your site isn't client focused and is mainly aimed at Google, you risk them bouncing from your site which will give the search engines a negative signal about your site (a high bounce rate leads to lower rankings which will result in less organic traffic).
With this in mind, whenever you are creating content, you need to always be thinking about your ideal client and how to best serve them. You need to give them the best user experience that you can - you're in business to serve clients, not bots.
This can be done in a number of ways, but the easiest way is by following these guidelines:
Use short sentences and paragraphs, don't use overly complex language.
Write for humans (not robots)
Be very specific about what you are talking about at all times, keep it short and to the point
Focus on keywords that your ideal client cares about (do your keyword research)
Use images, diagrams or infograpics to help explain or exemplify your writing
Where appropriate, link to your other articles to provide further information or contect
When you write for your target audience, in the language that resonates with them, solving their problems, empathizing with their issues, they will read for longer.
This will improve your search engine rankings, leading to visitors to your website and more prospects for your business.
Use a blog
Blogging should be a central pillar of your marketing strategy and should be part of your content marketing plan. It helps increase organic search traffic - your readers like fresh content that talks about issues that matter to them. Search engines love new and relevant content that they can use to answer search queries.
Over time, with consistent posting of high-quality and relevant content, you will have an authoritative resource that will naturally attract more visitors to your website (and direct traffic on your blog).
Keyword Strategy
As with most marketing activities, blogging should be well planned and built around your target audience. You will want to create content that supports pillar pieces.
You'll want to avoid cannibalization of keywords (where one piece of content uses the same keywords as another article) which would work against your efforts.
With your blog, the starting point should be keyword research. You want to appear in the search results for the right keywords!
What is keyword research?
Keyword research will identify your target keywords and supporting long tail keywords.
You should build out your content plan of articles and supporting articles using keyword research tools.
When you have your topics, keywords, long tail keywords, estimated search volume (you may want high search volume and some lower volume keywords in the mix), keyword difficulty, and blog post titles you'll then need to fill out the brief for each piece.
You will gain an insight into the effort required for each topic through the keyword difficulty. You will find that when a keyword has a high difficulty score, it will be better to target long tail keywords as they usually have less competiton.
Many business owners are too busy or are just not inclined to write all the content. Instead many opt to use a professional SEO copywriting (or blogger) service to produce the steady, regular supply of content needed for the blog posts.
Keyword Research Tools
Using a keyword research tool to examine the options, to confirm or modify your ideas should be an essential step in your keyword research. Here are some of the tools you could utilize
Google's Keyword Planner
Ahrefs
SEM Rush
Blog Post Types
There are several categories of blog posts that you will want to consider using, here are a few to get you started:
How-to articles and tutorials
Industry News
Checklists
Worksheets
Case studies
Interviews
Product reviews
Product comparisons
Beginners Guides
Your selection of blog post type will probably be determined by the keyword intent. If a keyword suggests that your visitor is looking for information, a how-to might be the ideal way to go.
If someone is further down the buying journey and they want to compare your product against a competitors, then obviously a product comparison would be the best approach for your blog post.
Blogging might seem like a lot of work, a lot of effort and possible expense, but this should be weighed against the high SEO benefits that it brings -blogging can increase organic traffic hugely over time.
If you want your website to become a reliable source of new business, invest time in blogs and keep your readers happy with insightful content that satisfies their search intent.
Aim for Google's featured Snippets
You will have noticed that sometimes, when you search on Google, there's a result at the top of the page, before the ads and usual organic results that have an answer to your search query. Here's an example:
With such a prominent position in the search engines results, getting a featured snippet can increase organic traffic to your site. A featured snippet takes 8% of the regular, 1st placed organic result's click through rate (CTR).
Featured snippets are growing in importance as Google ads more types of them.
There's nothing that you can do to your web page or blog post that will guarantee that your site obtains a featured snippet. All you can do is to ensure it is eligible for one and the best way to do this is through Structured Data.
Here's what Google says:
"Google uses structured data to understand the content on the page. You can help us by providing specific information about your site, which can help your site display in richer features in search results. If you're just getting started, visit Understand how structured data works."
Structured Data is markup contained on the page, it's invisible to the person reading the page but is readable by Google and other search engines.
If you are using WordPress to implement your website, then you might decide to use a plugin, such as RankMath, to enable easy management of the structured data for each page.
When you've added structured data, you can test a page using a tool provided by Google: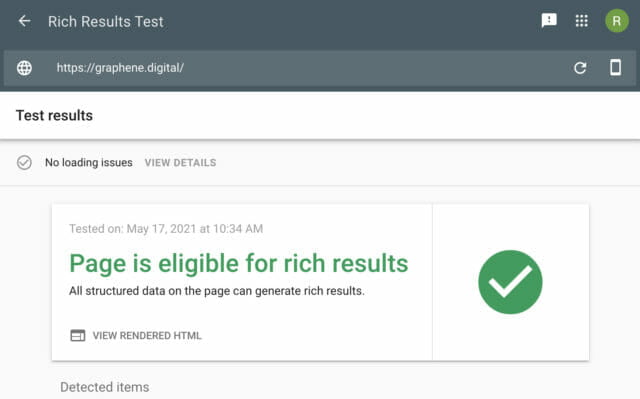 https://search.google.com/test/rich-results
To increase the chance that Google will pick your website for a featured snippet: Answer a question, clearly and succinctly and pick the most appropriate schema for the content you are providing.
Use relevant Keywords on your pages
Search engine optimization (SEO) requires the use of appropriate keywords (and long tail keywords) on web pages. If you want a web page (blog post or article) to be found, it needs to have the right content. Getting organic traffic depends upon having the right keywords on the right pages.
What are keywords?
Keywords are search terms. The things that people type into search engines.
You need to know the keywords that your target audience type into Google to find the products and services that you provide.
You need to know the keywords they use to investigate and learn about your products and service.
And before that, you need to know what your target audience types into Google to find solutions to the problems that you can help them solve.
Let's use an example to ensure clarity.
In this example, I own a business selling Lawn Mowers and associated products to home owners. Here are some example keywords:
The top of sales funnel keywords might be: Best lawn mower, mower for large lawn, lawn mowers.
Middle of funnel: Petrol vs Electric Mower, Rotary vs cylinder mower, Mountfield hp185 vs hp 46
Bottom of funnel: Best Price Mountfield hp185
Once you have identified your keywords, you then need to work out which ones are for which piece of content. You wouldn't want to have bottom, middle and top of funnel keywords all in the same article since the reader at one stage of the buyer's journey will want different information than those at another.
A page (or more) for each part of the buying journey will enable you to increase organic traffic to your site - you will attract different streams of search traffic to blog posts or content that is crafted just for them.
With content targeted to your ideal clients at each stage of the buyer's journey, you also have the opportunity to increase authority with them and to become someone they will listen to on your topic. They will hopefully read one blog post and then the next, you can lead them along the path to becoming a new client.
Target Keywords that have potential
If you want to increase organic traffic, you will need to write content that targets keywords that people search for (search volume is important, there must be some). Your keyword strategy should include low competition keywords with a high search volume, you shouldn't only go after high keyword difficulty and high volumes, this is a recipe for enormous costs/effort.
The low competition (low keyword difficulty) means that you will have an easier time ranking the content.
A high search volume gives you the opportunity to get clicked on bringing you the organic traffic you desire.
Don't use boring title tag and meta descriptions
If you want a traffic increase, don't be boring.
On-page SEO involves getting many things right, but one of the most important, and impactful on your CTR, is the correct selection of title and meta descriptions.
These two pieces of metadata are usually picked up by the search engines and are used when creating your entry in the search results. Here's an example:
Imagine if you appeared in the search results - which result are people going to click on? One with a boring title? One that gives everything away in the description? Of course not.
Write the title and description in a way that builds enthusiasm and intrigue - make it so that people want to click on your search result (improving your CTR). But remember you must deliver on the promise or they will leave your page disappointed (a bounce that Google will use as a negative signal).
Keywords in meta data
It is common practice in on-page SEO to have the main keyword appear in the title and towards the beginning of the description. This helps the search engines to understand what the page content is about and also tells the people who are searching what they will find when they click through.
Having a keyword appear in these locations improves CTR which then increases organic search traffic flowing to your site.
Build backlinks - off-page SEO
In this article, we have talked about on-page SEO strategies and tactics. When we talk about link building, we now shift to off-page SEO. Off-page SEO covers optimization or actions that you take outside of your website.
Much of off-page SEO relies heavily on your website having high quality content. Indeed, before you start off-page SEO efforts, you want to ensure you have built authority content that people will want to read and that's considered to be valuable to your target audience.
So what are the sources of backlinks and why do I need them?
There are many places, many sources of backlinks and we will look at several of them. First, it is worth spending a little time talking about backlinks and why you need them. You'll also want to know about the quality and relevance of backlinks.
Why do I need backlinks?
If you think of backlinks like votes, the more votes you have, the more people like your site.
The more popular your site, the higher its authority and the higher its content will rank.
The higher content ranks, the higher the CTR, and the more visitors will arrive at your site.
This is a rather simplistic view - not all links are created equal - there are issues of link quality.
What is a backlink?
A backlink is a clickable reference from one webpage to another. In HTML (the code behind a web page or blog post) they look like this:
<a href="https://example.com/example.html" rel="nofollow">
   A useless link
</a>
And this would be rendered as a link with the text 'A useless link'. That text is called the anchor text. The first part of the markup is the meta data that tells your web browser that this is a link to https://example.com/example.html, additionally, there's a tag rel="nofollow", that part tells the search engine that it should not pass any authority (sometimes called link juice) to the linked page or domain.
This link is called a nofollow link. You don't want too many of these, from an SEO viewpoint, they don't carry much value. You want dofollow backlinks (they are the default).
What about link context and relevance?
For a link to be truly valuable to you, it needs to be from a relevant website (one that shares the same industry as yours) and it should be from a page that has something in common with the page on your site that it's linking and the link should be in a relevant context.
If you're in the Lawn Mower business, a link from a casino website, on a page about a roulette game in a sentence about the odds of winning on black to your page that's all about the Mountfield SP46, would be considered spammy. It has no relevance whatsoever to your site or the page and products you describe. This type of link could and probably would hurt your SEO. Google might rank you lower if you had this type of link and that would reduce your website traffic.
Link authority
In SEO, as a website gains more and more relevant backlinks, its authority increases. Some sites are very authoritative, Wikipedia is a fine example.
The more high quality content a website has, the higher the probability it has a high authority (as it will naturally have gained links).
There was a time when Google indicated how influential is considered a page to be. Page Rank. Providing this information to SEO specialists enabled them to try and 'game' the system. As a consequence, Google decided to stop providing Page Rank and it became less open about how its ranking algorithms functioned.
SEO's still want to be able to measure or at least compare the relative authority of websites and pages on them, with this demand, several companies have developed models of how they think domain and page strength works. Their SEO tools give scores to websites that allow comparison of Domain Authority or Domain Rank. Moz, Ahref, and SEMRush each have a well respected SEO tool that can provide such comparative measures.
If you have the option of a link from low authority site or a high authority site, you'd want that from the higher authority site as it passes more authority (link juice) to your site.
How many backlinks do I need?
Your aim is get your content found on the search engines (so you get organic search traffic). To do that, you need to compare your backlink profile with that of your competitors. If they have 100 links from relevant authority sites, you will need a comparable profile.
There are SEO tools that will show the backlink profile for any website, ahref, moz and SEMrush are very popular for this task. They will show which pages link to which site. They will provide relative measures of strength for pages and domains and give you a good idea of the value of each link your competitors have.
How to build backlinks?
Research done, target keywords selected. You have your content marketing in place. You've started to execute it, you have pillar content published and that's supported by additional content. Your content follows an internal linking structure to ensure authority flows to the pillar content. You've checked your sitemap is up to date and contains everything it should and nothing more. You've set up the Google Search Console and submitted your site map.
You're ready for link building! Each of these sources can deliver high quality, authoritative backlinks that will help your rankings, increasing organic traffic to your site.
Building backlinks are hard work, requiring patience, persistence, and a methodical approach, but it's worth this effort and expenditure (time isn't free), it will lead to an increase in your organic search traffic and, with the right website, more revenue.
Guest Posting
Guest blogging (or posting) is the practice of reaching out to authoritative, niche specific websites. You contact the site's webmaster and pitch an idea for an article that you would write and they would include on their blog.
In return for all your hard work, you are usually allowed o include a backlink or two to your website. It's important to include additional links to authoritative sources in your guest posts. That way, it'll look natural and not like you're trying too hard or being overly promotional!
Guest blogging can be hard work. For every guest post, you successfully place, you might need to contact 20 blog owners. Many blog owners understand the increasing value of links, as a result, they may require payment for a guest blog.
The practice of guest blogging and the resulting backlinks will increase your site's authority, you may not get much direct referral traffic from these links but your organic search site traffic should increase as your content ranks more highly.
Broken Link Technique
Over time, the internet changes, new sites are built and other sites vanish. There are billions of blog pages on the internet and many of which are years old. They may have content that links to a site, articles or blog posts that no longer exist. Broken links.
With this knowledge, and the right tools, you can search for content, in your niche, that has such broken links.
You contact the webmaster of the site, explain that you found a broken link, and you suggest that they link to a piece of content on your site that will provide the resource that's disappeared.
You might need to write content that is specific for each application, but there's a chance you've already got some content that will fill the requirement.
Gaining backlinks in this manner, from authoritative sites, will drive more website visitors to your site as the search rankings of your content improve.
Skyscraper Technique to build links
Over time, the SEO landscape changes. Google is always looking at new ways, new algorithms, changes that will deliver its customers (searchers) the best result for their query.
Not so long ago, it was believed (and evidence was collected to show this belief had merit) that content length had a very strong correlation to ranking position. The longer the article, the higher it would rank.
In the quest to drive more visitors to a client's website driving them, many SEO experts took this knowledge and used it to their advantage.
They researched several pieces of content that covered the topic they wanted to write about. They then analyzed these and built their own content that was bigger and (at the time that related to better) than the competitors. When you had this giant article, you would pitch it to the webmasters that link to the competition and suggest they link you your creation.
This is what was known in SEO, as the skyscraper technique.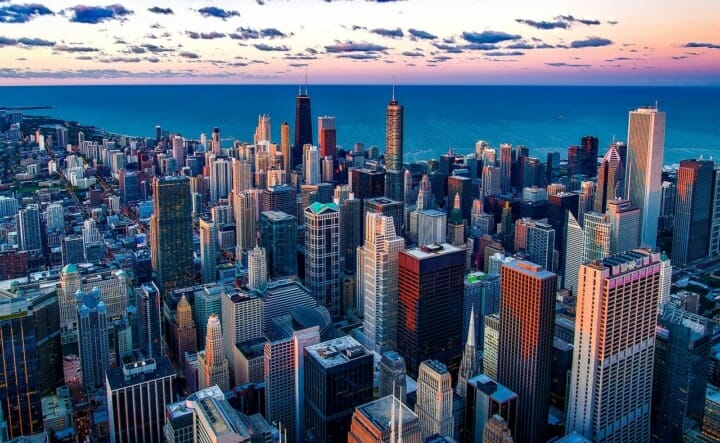 Today, Google doesn't place so much weight on the length of content. Who wants to read 10,000 words about how to correctly sew a button on a shirt?
Is the Skyscraper technique now dead?
As the search engines algorithms change, so do the SEO practices.
The content marketing strategies remain the same, bloggers keep creating more content to keep readers happy and engaged with brands. But the SEO strategy that the leading experts use changes with the need to deliver results for their clients.
It has been replaced with a more pragmatic approach. Write enough to answer the question.
Give detail, offer examples, give several viewpoints and be complete. But don't pad out an article just to make it longer.
Give your reader the best user experience and not necessarily the longest experience.
This leads to search traffic.
HARO to get links
To quote the site: "HARO connects journalists seeking expertise to include in their content with sources who have that expertise."
You signup to receive help requests from journalists on a set of topics. When you see something that you can contribute on, you'll reply with a pitch and if successful, you write a piece for the journalist.
In return for your efforts, you obtain credit, a link, back from the journalist's website.
These links can be from major news organizations with very high authority - but not always!
More Traffic Sources
Use Quora to drive website traffic
Quora provides you with the opportunity to display your authority in your chosen topic. This is less about a keyword, a snippet, a brand, search engine results or your site content, it's about delivering value to Quora's visitors.
Quora's visitors are there to ask a question or to search for detailed answers to their own questions. This is where you can help out.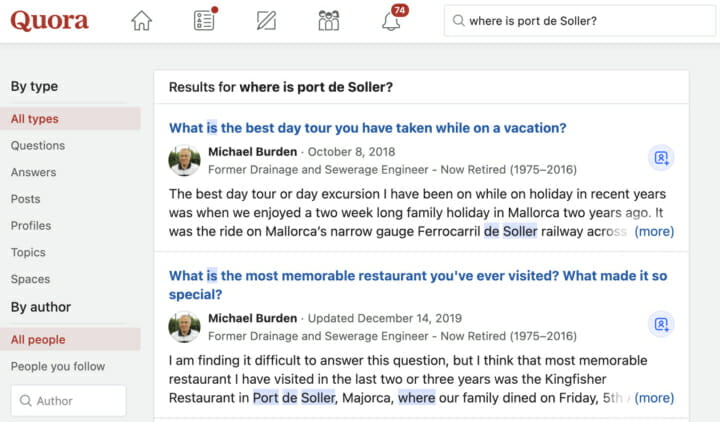 Go to Quora and search for questions in your niche. When you've found one that you want to answer, write a considered and detailed answer, only if it makes clear sense should you include a link back to a supporting post on your own site.
When others see your depth of knowledge and the care you've taken when answering questions, you hope they will click on your profile to find out more about you, become a visitor to your site where they can learn about your brand end enjoy your content.
The traffic from Quora may not be high volume, but it will be high quality, ready to find out more and ready to read your content.
Almost every content marketing plan will include social media in one way or another.
It is common practice to use automation for some social media tasks, for example, you can have automatic posting of links to the new articles on your blogs. (Your site's admin can make that happen for you).
This can drive significant traffic to your site if you have a large social media following.
Of course, you need to deliver the right type of content to each of your social media platforms. There's no point sending a typical blog post to a video platform. No point sending video to a podcasting one. You'll need to have content for each platform included in your marketing plan.
Email Marketing
Every content marketing plan needs to include email marketing.
Your email list is a great source of organic traffic. People on your lists already know you and are aware of your products or services.
When you have a new blog post, new product pages or some other site content that you want to get eyes on, your email list is an efficient and cheap way to bring visitors and drive traffic to your site.
Podcasts
People are busier than ever and so reading a blog or watching a video isn't always practical for your target audience. Podcasts are an effective way to connect with people whilst they drive, hike, walk to work etc.
Running your own podcast can be a stack of work but an alternative is to appear on someone else's. Podcast owners are often looking for people to interview, people in their niche or that have some other relevant connection.
If you can get yourself a spot on a popular podcast in your space, you can talk about problems, solutions and gain visibility whilst demonstrating the credibility and authority you need to convert listeners into organic traffic for your site.
Conclusion
The marketing tips we've given you, increasing organic traffic to your website, have been tried and tested—and they work. By following these ideas, it won't take long before you start seeing an uptick in the number of visitors to your site.
If all this sounds like a lot of information or if you need help implementing any of these strategies, then don't hesitate to schedule a call with us today by clicking here . We want to be there for you every step of the way as you grow your business!
Frequently Asked Questions:
How does organic traffic help SEO?
Organic search traffic to your site is a ranking signal to the search engines. They like sites that are popular with lots of visitors. High-volume keywords that lead to a click-through to your website are what you should aim for.
What does organic traffic mean in Google Analytics (GA)?
GA states that it separates traffic that arrives at your site through a search engine result from traffic that arrives through other referring channels, like paid or referral traffic.
How do websites get organic traffic?
Sites get organic traffic by being found and then clicked on in the search engine results pages (after people have searched for a particular keyword). Appearing in search results for popular searches is the most effective way to drive organic traffic to your site.
How much web traffic is organic?
BrightEdge Research (2019) found that 53% of traffic is Organic and that this was up from 51% in 2014.
What are the advantages of getting organic traffic?
The most obvious benefit is one of cost. There's no direct cost associated with search traffic which is why there is extreme completion to increasing organic traffic, especially when the search volume for a keyword is high.
How do you drive organic traffic?
One significant driver of organic traffic is social engagement.
For example, if your competitors are influencing social media the website page that contains their content can get thousands of people to share it.
Search spiders (search engine bots) will crawl and index the web pages that contain such articles, which reinforces ranking.
How do you measure organic traffic?
The primary way to measure your organic traffic (and other types of traffic) is using GA. You'll need to install a code snippet (some javascript) on your website and then connect that up to the GA control panel.
Over time, you'll be able to see how your sites organic traffic increases (or decreases).
In the GA panel, head for:
Reports->Acquisition->All Traffic->Source/Medium
Then select Medium for the Primary Dimension.
Next click on 'Organic' and you will now have a graph showing only your organic traffic statistics.
Here's an example: